"...... My guests love not having to carry a key with them and the beauty for me as an owner is the lock has enabled us to rent 100% direct. We have owned our property almost 5 years and this is the best rental year yet...... " Read more eRentalLock testimonials

If you live in New York and own a vacation rental home in Florida, how do you manage your daily rentals?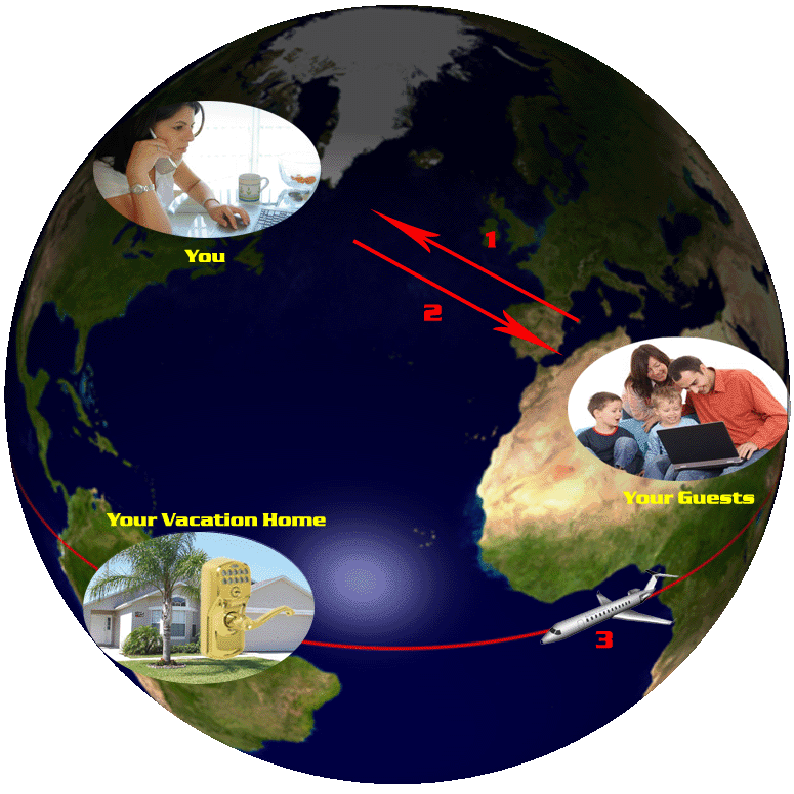 Using eRentalLock system, it's as easy as 1-2-3:
Your guest finds your rental property from Internet and reserves it for their vacation, e.g. from Dec. 20 to Dec. 30, 2013.


You simply run the eRL Program on your own computer or Online Management Website, put in the check-in date/time, e.g. on Dec. 20, 2013 at 12:00pm, check-out date/time, e.g. on Dec. 30, 2013 at 1:00pm, and then the Remote Access Controller encrypts the check-in and check-out date/time to generate a 10-digit Access Code. After that you can email, phone, or fax the Access Code to your guest.


Your guests fly to Florida. After 12:00pm on Dec. 20, 2013, he/she enters the Access Code into the eRL Lock on your property; the eRL Lock decrypts the Access Code to get the check-in and check-out date/time you preset, verifies if the current date/time is in between the check-in and check-out date/time, and unlocks the door.  Your guest then can create a user-friendly 3-6 digit Personalized Code and use it to access your property during their vacation stay. After 1:00pm on Dec. 30, 2013, both the Access Code and Personalized Code become invalid automatically.


eRentalLock System Features:
No Internet and wireless network between Lock and Computer, never lost control to your lock if the network down or power outage, and no Internet fee.


Instantly and remotely grant access to your property from anywhere in the world using free PC version Program orfree Web version Programorfree Mobile Program,and no monthly service fee.


Time-sensitive Access Code based on guest arrival date and expires upon guest departure, no more key management (no keys to mail, replace, no more re-keying the cylinder), increase security and reduce cost.


The Audit Trail with free PC version AND Web version program allows you to know WHO used WHICH Access Code at WHAT date/time accessed your property, so you can know if your maitenance people or cleaner has shown up per your request. The lock retains the last 1,000 events that happen in the lock. Increase control over your rental property.


No need for "Meet & Greet" guests, time-sensitive Access Code can be generated days or months in advance and sent to guest by email, phone, or fax, save time and money.


Gust can create their own easy-to-remember time-sensitive Personalized Code, easy and convenient for guest.


Automatically adjust DST time (Daylight Saving Time) for any timezone in the world, never need to go to the property to adjust the DST time manually, convenient for remote management.


Easy to disable the valid Access Code you have issued, more control to your rental property.



Unique convenient features for multiple property management.



One group Access Code can be used to access all properties in the same group, convenient for property manager, maintenance people, housekeeping, and etc.


Multiple control program accounts with 3 operation privilege levels.

Level 1 account – can do everything in the control program.
Level 2 account – can generate Access Codes in the control program.
Level 3 account – can view generated Access Codes in the control program.



Generated By feature can trace WHO generated WHICH Access Code at WHAT time.
eRentalLock Lock Features:
The Locks are resistant to:


Wear from normal use.
Corrosion.
Environmental conditions.
Abrasion.
Pressure washing.



The Locks Test Summary:
HALT (Highly Accelerated Life Testing):

Conducted circuit board-level and lock assembly-level tests.
Passed extreme thermal excursions (-112 to 2200F / - 80 to +1000C and beyond) and vibration (50Grms random).
No hard failures on PCB until solder melted (3380F / 1700C).

Environmental Testing:

High heat and humidity (exceeds UL1034 requirement).
Passed BHMA tests for outdoor exposure and indoor/outdoor condensation tests.
Survived 7 day test cycling between the extremes of environmental specifications.

BHMA Lock Cycle Testing:

Exceeds 135K cycles combined keypad/mechanical operation (vs. 50K MRD required).
Mechanical only cycle (per BHMA) 565K – 1,036K cycles (vs. 400K requirement).
Robotic cycle test – no keypad failures until nearly 1,000,000 cycles achieved.
Thumb turn cycle test suspended at 300K cycles (2x deadbolt requirement).

Combined Environmental Stress & Cycle Testing:

Survived beyond 240 hours in salt fog combined with 100K+ cycles.
Survived beyond Grade 1 mortise door slam requirement combined with 75K+ cycles.